Details
Aveeno Body Lotion Shea Butter
The shea butter provides immediate relief for extra dry, irritable skin.
Clinically proven to moisturise skin for up to 24 hours.
Contains finely‐milled oatmeal, oat oil, oat essence and shea butter.
Fragrance free.
What can Aveeno Lotion do for you?
Aveeno utilizes naturally active ingreadients to achieve lasting results and naturally beautiful skin. Beautiful skin never goes out of fashion!
Moisturises: Restores moisture to dehydrated skin.
Protects: Creates a protective film on the surface of the skin, perfect for sensitive skin.
Cleanses: The oat particles adhere to dirt and dead skin cells allowing them to be washed away.
Soothes: Oatmeal has a soothing action on sensitive skin.
Bufferes: Helps return skin to normal pH levels
For best results, apply daily after your bath or shower.
[PR-001331] Aqua, Glycerin, Distearyldimonium Chloride, Petrolatum, Isopropyl Palmitate, Cetyl Alcohol, Dimethicone, Avena Sativa (Oat) Kernel Flour, Avena Sativa (Oat) Kernel Oil, Avena Sativa (Oat) Kernel Extract, Butyrospermum Parkii (Shea) Butter, Stearyl Alcohol, Myristyl Alcohol, Steareth‑20, Isopropyl Alcohol, Sodium Chloride, Potassium Sorbate, Benzyl Alcohol
Free shipping
Orders over £35.00
Tracked 48 Royal Mail: Estimated delivery 2 – 5 days.
Tracked 48 NO Signature
£3.99

Tracked 48 Signature
£4.49

Tracked 24 NO Signature
£4.99
Tracked 24 Signature
£5.49
Courier (Under 2 kg)
£6.19 - Next Working Day Delivery (Excluding Saturday Delivery) Orders MUST be placed before 11am on the day to be considered for NDD

Special Delivery Before 1pm (Under 1kg)
£6.99 - (Guaranteed Monday to Friday by Royal Mail)

Special Delivery Before 9am (Under 500g)
£15.99 - (Guaranteed Monday to Friday by Royal Mail)
Extra Weight Costs - Above 2kg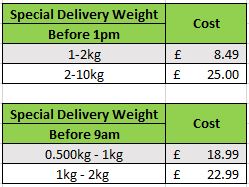 *Please note - certain 'P' (over the counter) items do not qualify for free shipping due to the nature of the ingredients. Please contact customer services for further information. A recorded service must be used. Non UK or private prescriptions do not qualify for free shipping - all items are sent Tracked 24 (£5.49) or Tracked 48 (4.49) Signature required.
**On stocked items (excludes fragrances), including Voucher codes offering free shipping.
Tracked 24 can take 1-3 working days from time of dispatch and Tracked 48 delivery can take 2-5 working days from time of dispatch. A recorded service does not speed up the actual delivery time.
Weight restrictions apply. In the event that any heavy or bulky items are ordered, Clear Chemist will contact you and advise you accordingly if you will be subject to any extra delivery charges.
Standard delivery is provided by Royal Mail.
NOTE:
Clear Chemist strives to offer the best delivery service possible but cannot make any guarantees on delivery times as they are contracted out to Royal Mail.