Details
Senokot Dual Relief Tablets are the herbal remedy, containing natural senna and fennel to treat constipation and bloating. The dandelion root in the ingredients stimulates bile production, so you can get on with your life without any irritation or uncomfortable moments.
Senokot Dual Relief Tablets are for oral administration. Adults (all ages): Take one or two tablets at bedtime when necessary. Children: Not recommended.
Senna Leaves Tinnevelly BP 100mg, Aloes (Cape) BP 45mg, Cascara Bark BP 30mg, Dandelion Root 30mg and, Fennel Seed 15mg as the active ingredients, The tablets also contain Dicalcium Phosphate, Sucrose, Talc, Magnesium Stearate and Sodium Starch Glycollate.
NOT RECOMMENDED DURING PREGNANCY. Consult your doctor if: You have been told that you have an intolerance to some sugars. You accidentally take too many tablets. You experience any side effects after taking this medicinal product. Interactions with other medicines: - None known. Do not use after the expiry date shown on base. Use according to instructions on or in pack. You should carefully read all product packaging and leaflets prior to use.
Free shipping
Orders over £35.00
Tracked 48 Royal Mail: Estimated delivery 2 – 5 days.
Tracked 48 NO Signature
£3.99

Tracked 48 Signature
£4.49

Tracked 24 NO Signature
£4.99
Tracked 24 Signature
£5.49
Courier (Under 2 kg)
£6.19 - Next Working Day Delivery (Excluding Saturday Delivery) Orders MUST be placed before 11am on the day to be considered for NDD

Special Delivery Before 1pm (Under 1kg)
£6.99 - (Guaranteed Monday to Friday by Royal Mail)

Special Delivery Before 9am (Under 500g)
£15.99 - (Guaranteed Monday to Friday by Royal Mail)
Extra Weight Costs - Above 2kg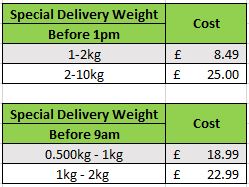 *Please note - certain 'P' (over the counter) items do not qualify for free shipping due to the nature of the ingredients. Please contact customer services for further information. A recorded service must be used. Non UK or private prescriptions do not qualify for free shipping - all items are sent Tracked 24 (£5.49) or Tracked 48 (4.49) Signature required.
**On stocked items (excludes fragrances), including Voucher codes offering free shipping.
Tracked 24 can take 1-3 working days from time of dispatch and Tracked 48 delivery can take 2-5 working days from time of dispatch. A recorded service does not speed up the actual delivery time.
Weight restrictions apply. In the event that any heavy or bulky items are ordered, Clear Chemist will contact you and advise you accordingly if you will be subject to any extra delivery charges.
Standard delivery is provided by Royal Mail.
NOTE:
Clear Chemist strives to offer the best delivery service possible but cannot make any guarantees on delivery times as they are contracted out to Royal Mail.