Details
Fipracyl Spot On for Cats is an easy-to-use treatment for killing fleas and ticks on cats, safely and effectively.
DOSAGE FOR EACH SPECIES, ROUTE(S) AND METHOD OF ADMINISTRATION Remove the pipette from the blister packaging. Hold the pipette in an upright position and snap off the top section of the cap. Part the pet's coat until the skin is visible. Place the tip of the pipette directly against the bared skin and squeeze gently. Empty approximately half the contents at each of two points along the cat's back. The first application point is at the base of the head and the second application point is between the shoulder blades. Squeeze the pipette several times to ensure dosing is complete. Avoid applying the solution onto the fur and do not rub into the skin.
Free shipping
Orders over £35.00
Tracked 48 Royal Mail: Estimated delivery 2 – 5 days.
Tracked 48 NO Signature
£3.99

Tracked 48 Signature
£4.49

Tracked 24 NO Signature
£4.99
Tracked 24 Signature
£5.49
Courier (Under 2 kg)
£6.19 - Next Working Day Delivery (Excluding Saturday Delivery) Orders MUST be placed before 11am on the day to be considered for NDD

Special Delivery Before 1pm (Under 1kg)
£6.99 - (Guaranteed Monday to Friday by Royal Mail)

Special Delivery Before 9am (Under 500g)
£15.99 - (Guaranteed Monday to Friday by Royal Mail)
Extra Weight Costs - Above 2kg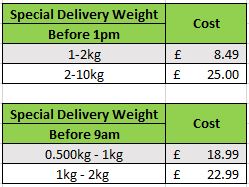 *Please note - certain 'P' (over the counter) items do not qualify for free shipping due to the nature of the ingredients. Please contact customer services for further information. A recorded service must be used. Non UK or private prescriptions do not qualify for free shipping - all items are sent Tracked 24 (£5.49) or Tracked 48 (4.49) Signature required.
**On stocked items (excludes fragrances), including Voucher codes offering free shipping.
Tracked 24 can take 1-3 working days from time of dispatch and Tracked 48 delivery can take 2-5 working days from time of dispatch. A recorded service does not speed up the actual delivery time.
Weight restrictions apply. In the event that any heavy or bulky items are ordered, Clear Chemist will contact you and advise you accordingly if you will be subject to any extra delivery charges.
Standard delivery is provided by Royal Mail.
NOTE:
Clear Chemist strives to offer the best delivery service possible but cannot make any guarantees on delivery times as they are contracted out to Royal Mail.