Details
Paludrine and Avloclor Antimalarial Tablets Travel Pack
Give some degree of protection against malaria in certain countries.
The Travel Pack Consists of:
14 Proguanil hydrochloride tablets 100mg (Paludrine tablets).
2 Chloroquine phosphate tablets 250mg (Avloclor tablets).
Both medications are antimalarials.
We recommended every individual considering taking this medication should read the Patient Information Booklet provided.
Malaria:
Malaria is a very serious tropical disease caused by plasmodium parasites, which are mainly transmitted through the bites of female Anopheles mosquitoes that predominately bite at night.
Some types of malaria require that you take more than one type of tablet, at the same time, to help prevent malaria.
Malaria prophylaxis is recommended for non-immune residents and travellers to malarious areas as these individuals have little or no immunity to malaria and risk severe attacks.
If you require more information on the disease, it's symptoms and other treatments that are avaliable please visit our Online Doctor Page.
Further Precautions:
When you are taking this medication to prevent malaria, you should also reduce the chances of being bitten by mosquitoes.
Wear light-coloured, long-sleeved clothing and long trousers when you are outside after sunset.
Use insect repellent creams or sprays on parts of your body not covered by clothing.
Sleep in a properly screened room or under a mosquito net.
Spray to kill any mosquitoes that may have entered rooms in spite of screening.
What to ask your health care professional:
You must get medical advice on which anti-malarial medicines to take.
You should ask your doctor or pharmacist if these are the right anti-malarials for the part of the world you are visiting.
What else you can do to protect you and your family from malaria.
The adult dose is two Paludrine tablets daily and two Avloclor tablets per week - starting 1 week before entering a malarious area, and continuing for 4 weeks afterwards.
For example, one adult travelling for 14 days in a malarious area, would need a total of 7 strips of tablets (98 tablets of Paludrine and 14 Avloclor tablets).
Each strip contains 2 Avloclor tablets and 14 Paludrine tablets; 1 strip per adult per week.
Paludrine tablets containing 100 mg proguanil hydrochloride.
Avloclor tablets containing 250 mg chloroquine phosphate, which is equivalent to 155 mg chloroquine base.
Please carefully read all product packaging and label information prior to use.
Do not give to children under the age of 1.
Free shipping
Orders over £35.00
Tracked 48 Royal Mail: Estimated delivery 2 – 5 days.
Tracked 48 NO Signature
£3.99

Tracked 48 Signature
£4.49

Tracked 24 NO Signature
£4.99
Tracked 24 Signature
£5.49
Courier (Under 2 kg)
£6.19 - Next Working Day Delivery (Excluding Saturday Delivery) Orders MUST be placed before 11am on the day to be considered for NDD

Special Delivery Before 1pm (Under 1kg)
£6.99 - (Guaranteed Monday to Friday by Royal Mail)

Special Delivery Before 9am (Under 500g)
£15.99 - (Guaranteed Monday to Friday by Royal Mail)
Extra Weight Costs - Above 2kg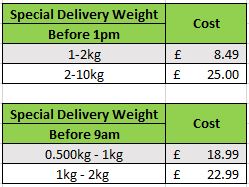 *Please note - certain 'P' (over the counter) items do not qualify for free shipping due to the nature of the ingredients. Please contact customer services for further information. A recorded service must be used. Non UK or private prescriptions do not qualify for free shipping - all items are sent Tracked 24 (£5.49) or Tracked 48 (4.49) Signature required.
**On stocked items (excludes fragrances), including Voucher codes offering free shipping.
Tracked 24 can take 1-3 working days from time of dispatch and Tracked 48 delivery can take 2-5 working days from time of dispatch. A recorded service does not speed up the actual delivery time.
Weight restrictions apply. In the event that any heavy or bulky items are ordered, Clear Chemist will contact you and advise you accordingly if you will be subject to any extra delivery charges.
Standard delivery is provided by Royal Mail.
NOTE:
Clear Chemist strives to offer the best delivery service possible but cannot make any guarantees on delivery times as they are contracted out to Royal Mail.