Details
Lipotrim Maintenance Cream Of Vegetable Soup x 1 Sachet
The Soup May Also Be Used To Form The Basis Of A Sauce For Pasta Or Potato Dishes.
*Contains Milk And Soya* *Produced In A Factory That Handles Nuts*
The Lipotrim Maintenance Programme has three options which you can follow to achieve your desired weight loss. The meals included in the options consist of a combination of breakfast, lunch and dinner and can be varied to suit your desired weight loss and personal circumstances. Option 1 - Have 1 sachet/bar per day and two healthy balanced meals for a gradual weight loss. Option 2 - Have 2 sachets/bars per day and one healthy balanced meal for an increased weight loss. Option 3 - Have 3 sachets/bars per day (at least 1 chocolate or summer fruit) and a healthy balanced light lunch or dinner for maximum weight loss. Exercise is recommended while using Lipotrim for balanced and increased weight loss.
Always read all packaging and directions carefully before using your purchases.
Free shipping
Orders over £35.00
Tracked 48 Royal Mail: Estimated delivery 2 – 5 days.
Tracked 48 NO Signature
£3.99

Tracked 48 Signature
£4.49

Tracked 24 NO Signature
£4.99
Tracked 24 Signature
£5.49
Courier (Under 2 kg)
£6.19 - Next Working Day Delivery (Excluding Saturday Delivery) Orders MUST be placed before 11am on the day to be considered for NDD

Special Delivery Before 1pm (Under 1kg)
£6.99 - (Guaranteed Monday to Friday by Royal Mail)

Special Delivery Before 9am (Under 500g)
£15.99 - (Guaranteed Monday to Friday by Royal Mail)
Extra Weight Costs - Above 2kg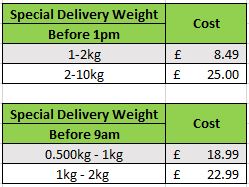 *Please note - certain 'P' (over the counter) items do not qualify for free shipping due to the nature of the ingredients. Please contact customer services for further information. A recorded service must be used. Non UK or private prescriptions do not qualify for free shipping - all items are sent Tracked 24 (£5.49) or Tracked 48 (4.49) Signature required.
**On stocked items (excludes fragrances), including Voucher codes offering free shipping.
Tracked 24 can take 1-3 working days from time of dispatch and Tracked 48 delivery can take 2-5 working days from time of dispatch. A recorded service does not speed up the actual delivery time.
Weight restrictions apply. In the event that any heavy or bulky items are ordered, Clear Chemist will contact you and advise you accordingly if you will be subject to any extra delivery charges.
Standard delivery is provided by Royal Mail.
NOTE:
Clear Chemist strives to offer the best delivery service possible but cannot make any guarantees on delivery times as they are contracted out to Royal Mail.