Details
Glycerin Suppositories Adult belong to the group of medicines known as stimulant laxatives and contain glycerine and gelatine to treat occasional constipation. Glycerin acts as a lubricant and mild irritant in order to stimulate the muscles of the intestine and causing it to contract. These contractions will then help to move the stools along and makes passing them out of the body much easier.
Constipation can be caused by many different factors, such as poor diet, not drinking enough water, pregnancy, lack of exercise or movement (like being ill in bed) and not going to the toilet as soon as you feel the need. Some medicines including pain killers can also cause constipation.
***Brands may vary***
Adults and children over 12 years: One suppository moistened with water should be inserted into the rectum (back passage). These suppositories must not be taken orally. If you are still constipated after 3 days of treatment, you should consult your doctor. Do not insert more than one suppository at a time. If you or a child accidentally swallow a suppository or insert too many, you should talk to your doctor.
Each Glycerin (Glycerol) Suppositories Bp 4g Adult contains: 70% w/w of the active ingredient Glycerol PhEur.
Do not use the suppositories after the expiry date shown on the product packaging. Keep the suppositories stored in a cool place, and in the original packaging. Keep them in a secure place where children cannot get at them.
Free shipping
Orders over £35.00
Tracked 48 Royal Mail: Estimated delivery 2 – 5 days.
Tracked 48 NO Signature
£3.99

Tracked 48 Signature
£4.49

Tracked 24 NO Signature
£4.99
Tracked 24 Signature
£5.49
Courier (Under 2 kg)
£6.19 - Next Working Day Delivery (Excluding Saturday Delivery) Orders MUST be placed before 11am on the day to be considered for NDD

Special Delivery Before 1pm (Under 1kg)
£6.99 - (Guaranteed Monday to Friday by Royal Mail)

Special Delivery Before 9am (Under 500g)
£15.99 - (Guaranteed Monday to Friday by Royal Mail)
Extra Weight Costs - Above 2kg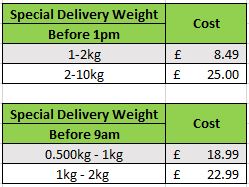 *Please note - certain 'P' (over the counter) items do not qualify for free shipping due to the nature of the ingredients. Please contact customer services for further information. A recorded service must be used. Non UK or private prescriptions do not qualify for free shipping - all items are sent Tracked 24 (£5.49) or Tracked 48 (4.49) Signature required.
**On stocked items (excludes fragrances), including Voucher codes offering free shipping.
Tracked 24 can take 1-3 working days from time of dispatch and Tracked 48 delivery can take 2-5 working days from time of dispatch. A recorded service does not speed up the actual delivery time.
Weight restrictions apply. In the event that any heavy or bulky items are ordered, Clear Chemist will contact you and advise you accordingly if you will be subject to any extra delivery charges.
Standard delivery is provided by Royal Mail.
NOTE:
Clear Chemist strives to offer the best delivery service possible but cannot make any guarantees on delivery times as they are contracted out to Royal Mail.