Details
Ferrous Sulphate Tablets 200mg X 60 Tablets
Ferrous Sulphate Tablets are used to treat and prevent iron deficiency anaemia.
Iron is a mineral that the body uses in the creation of haemoglobin, a component of red blood cells that carries oxygen. Iron is also used in myoglobin, which allows muscle cells to store oxygen.
Lack of Iron can cause tiredness due to low levels of oxygen in the blood or the inability to store oxygen. This can lead to tiredness
Ferrous Sulphate Tablets work by restoring Iron levels within the human body.
***Brands May Vary***
Adults: Take 2-3 tablets daily in divided doses.
For prevention of anaemia: Take one tablet daily.
Children aged 6-12 years: Give two tablets daily in divided doses.
Ferrous sulphate 200mg. Other ingredients: Spray dried liquid glucose, stearic acid, magnesium stearate, microcrystalline cellulose (101) (E460), lactose granules containing lactose, maize starch, pregelatinised maize starch and water. The coating contains: kaolin, purified talc (E553), acacia (E414), gelatin, sucrose, purified water, calcium carbonate (E170), titanium dioxide (E171) and beeswax. The tablets may also contain yellow carnauba wax, polysorbate and sorbic acid (E200). The printing ink contains: shellac (E904), iron oxide black (E172), soya lecithin MC thin (E322) and antifoam DC.
Free shipping
Orders over £35.00
Tracked 48 Royal Mail: Estimated delivery 2 – 5 days.
Tracked 48 NO Signature
£3.99

Tracked 48 Signature
£4.49

Tracked 24 NO Signature
£4.99
Tracked 24 Signature
£5.49
Courier (Under 2 kg)
£6.19 - Next Working Day Delivery (Excluding Saturday Delivery) Orders MUST be placed before 11am on the day to be considered for NDD

Special Delivery Before 1pm (Under 1kg)
£6.99 - (Guaranteed Monday to Friday by Royal Mail)

Special Delivery Before 9am (Under 500g)
£15.99 - (Guaranteed Monday to Friday by Royal Mail)
Extra Weight Costs - Above 2kg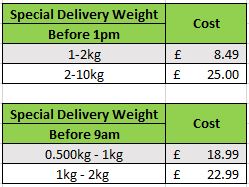 *Please note - certain 'P' (over the counter) items do not qualify for free shipping due to the nature of the ingredients. Please contact customer services for further information. A recorded service must be used. Non UK or private prescriptions do not qualify for free shipping - all items are sent Tracked 24 (£5.49) or Tracked 48 (4.49) Signature required.
**On stocked items (excludes fragrances), including Voucher codes offering free shipping.
Tracked 24 can take 1-3 working days from time of dispatch and Tracked 48 delivery can take 2-5 working days from time of dispatch. A recorded service does not speed up the actual delivery time.
Weight restrictions apply. In the event that any heavy or bulky items are ordered, Clear Chemist will contact you and advise you accordingly if you will be subject to any extra delivery charges.
Standard delivery is provided by Royal Mail.
NOTE:
Clear Chemist strives to offer the best delivery service possible but cannot make any guarantees on delivery times as they are contracted out to Royal Mail.
Product reviews
Cheap! Review by RR87

Better price than the local Chemist. (Posted on 04/08/2014)
Write Your Own Review