Delivery Information
Special Delivery
If you select  Special Delivery for your PRESCRIPTION Order, you need to place your order BEFORE 11am, for it to be sent out the same day for Next Day Delivery.
Prescriptions
NHS- An NHS repeat prescription is an instruction by your doctor to prescribe the medication you need to treat a specific medication condition on a regular basis. This means your doctor has given permission for you to be given this medication in future without having to make an appointment every time you run out.
You can register with us using the 'Electronic Prescription Service', which will save you time in having to pick up your paper prescription from your doctor every time.  They'll check and dispense your medication before posting it to you by Royal Mail or DPD, in plain discreet packaging.
There is no delivery charge for NHS Prescriptions - Yes seriously, it is FREE of charge!!
PRIVATE - We can dispense your private prescriptions here at Clear Chemist. Simkply order your products online with us. Select "I have a private prescription" on the dropdown box next to the product, add the product(s) to your basket. You will then need to choose a delivery method, unfortunately, there is delivery charges for private prescriptions.
We will then need your original prescription posted to us, we recommend using a tracked speedy service. Once we have everything, we then deliver your prescription, discreetly, to your door. 
How will my order be delivered?
All orders are dispatched using either DPD courier services (where requested) or Royal Mail, with the exception of orders containing 2 or more aerosols and very heavy packages, which will use our partnered courier service. Tracking can be sent when your order is despatched, where you provide a correct email address and/or mobile contact number. This is an automated service provided by Royal Mail. Please ensure you check your junk/spam folders when an order is shipped for these updates.
Please Note:YOUR POSTAGE OPTION SELECTED IS INDICATIVE OF THE SERVICE WE WILL USE WHEN YOUR ORDER IS READY FOR DISPATCH AND NOT THAT OF WHEN TO EXPECT YOUR ORDER FROM TIME OF PLACING IT
DPD Orders
Monday to Thursday before 11am will be delivered the next working day. 
Friday orders placed before 11am will be delivered on Monday. 
Please also be aware that we do not process orders over the weekend. If you order from Friday after 11am, Saturday or Sunday, you order will be processed first thing Monday (excluding bank holidays) and expect delivery for Tuesday.

Northern Ireland
Any requests for Next Day Delivery - Royal Mail or DPD may change this service to a 2 day service due to the distance and the method of transport required. Under these circumstances we are unable to provide any refunds or reimbursments as this is not as a result of any delays by Clear Chemist. The cost for shipping to Northern Ireland via DPD will cost £25. We will invoice you after your purchase for this delivery charge, as it cannot be selected upon checkout.
For courier and special deliveries - If orders are placed by 11am you will receive them within two working days.  If you require your order urgently and it is AFTER 11am, then please contact customer services on 0151 203 6535 prior to placing your order and we will see if the item is in stock and able to dispatch that day. Please do not email as they are not monitored regularly therefore your request can and may be missed.
What if you do not have stock of the item ordered?
Occasionally we have to order stock in. This can sometimes take up to 24 hours, so please bear this in mind when you purchase your item, inspecific when selecting Next Day Delivery VIA ROYAL MAIL OR COURIER SERVICES. As soon as the stock arrives and is ready for despatch, you will be notified and it will be sent out for Next Day Delivery. Where orders are despatched within the permitted timeframes as stated, Clear Chemist cannot be held responsible for Courier or Royal Mail delays regarding parcel delivery times. Please appreciate that whilst every effort is made by Clear Chemist to ensure your order is dealt with as promptly as possible, once an order has been despatched, Clear Chemist are not accountable for the delivery service actions and times taken to deliver your parcel as circumstances out of all parties control can occur. If however, where the delivery service causes unneccesary delays, this will be looked into by Clear Chemist upon your request and acted upon appropriately.
How much does delivery cost? 
Free shipping.
Orders over £35.00* (Does not include Prescription Items)
Tracked 48 Royal Mail: Estimated delivery  2-4 Working days
Tracked 48 NO Signature (2nd class tracked)
£3.59 - Can take 2-4 working days.
Tracked 48 Signature (2nd class tracked)
£4.49 - Can take 2-4 working days.
Tracked 24 NO Signature (1st class tracked)
£4.99 - Can take 1-3 working days. This is NOT guarenteed next day delivery.
Tracked 24 Signature (1st class tracked)
£5.49 - Can take 1-3 working days. This is NOT guarenteed next day delivery.
DPD Courier (Under 2 kg) 
£5.99 -  Next Working Day Delivery (Excluding Saturday Delivery)  (Please be aware when you select Courier Next Day for northern parts of Scotland, DPD may take 2 days to deliver) 
DPD Courier (Delivered 2/3 Days)
£5.99 -  These items (Nail Polishes or Aerosols) cannot go with Royal Mail. We require to order stock from a supplier, which takes 1 working day. So delivery will be sent DPD, once stock arrives.
Special Delivery Before 1pm (Under 1kg)
£8.29 - (Guaranteed Monday to Friday by Royal Mail)
Special Delivery Before 9am (Under 500g)
£18.99 - (Guaranteed Monday to Friday by Royal Mail)
Extra Weight Costs - Above 2kg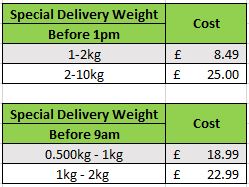 *Please note - ALL Prescription Only Medicines and certain 'P' (over the counter) items do not qualify for free shipping due to the nature of the ingredients. Please contact customer services for further information. A recorded service must be used. Non UK or private prescriptions do not qualify for free shipping - all items are sent Tracked 24 (£5.49) or Tracked 48 (4.49) Signature required. 
**On stocked items (excludes fragrances), including Voucher codes offering free shipping.
Tracked 24 can take 1-3 working days from time of dispatch and Tracked 48 delivery can take 2-4 working days from time of dispatch. A recorded service does not speed up the actual delivery time.
Weight restrictions apply. In the event that any heavy or bulky items are ordered, Clear Chemist will contact you and advise you accordingly if you will be subject to any extra delivery charges.
NOTE:
Clear Chemist strives to offer the best delivery service possible but cannot make any guarantees on delivery times as they are contracted out to Royal Mail and courier services. Whilst we make every effort to deliver all your goods in the agreed time, we will not be liable if we fail to do so in part or in full due to circumstances beyond our control.
Where can Clear Chemist deliver to?
We do not deliver internationally.  We only ship inside the UK.
Will I have to sign for my delivery?
All parcels must be signed for on receipt. If you will not be at home during normal office hours you can provide us with an alternative secure delivery address where someone will be available to sign for your parcel. You must be available to sign for the goods when they are delivered. If the delivery fails the courier or postman will leave you a note, you must contact them within 3 working days either by calling the number on the card or visiting your local Royal Mail collection office. Failing this the goods will be returned back to Clear Chemist. An extra delivery charge will apply to either attempt the delivery again, or in the case of refunds, refund the cost of your order less £10 (postage and handling).
How can I check the status of my order?
Once we have received your order, we  will email you with your order reference number. Please quote this order reference in all correspondence. Any queries, please contact our customer services team at sales@clearchemist.co.uk with regard to your query.If you have not received any tracking on your order, please contact customerserivces@clearchemist.co.uk who will be able to provide you with this.
Additional charges
If we are unable to deliver your order for any of the following reasons, an extra delivery charge must be paid before we can attempt the delivery again:
You have provided incorrect postal address details
You were not available to receive your order at the specified delivery address, and did not subsequently collect your item(s) from the depot specified by the courier
This policy is in place to cover the costs that we incur when we resend your order.