Details
Codeine Linctus:
Codeine is a opioid pain medication.
Indicated for the mild to moderate severe pain.
This medication is an oral solution, designed to treat dry, unproductive and irritating coughs.
This medication is designed for short term use (up to three days).
If a severe unproductive cough remains after the initial period, please talk to a GP.
Caution: Codeine is considered addictive and is dispensed at the pharmacists discretion.
NOT TO BE USED FOR A CHESTY COUGH - ORDERS WILL BE CANCELLED FOR THIS REASON.
RESTRICTED TO 2 WITHIN 12 MONTHS TO AVOID MISUSE
Adults 1 x 5ml spoonful, four times a day. The elderly. ask your doctor for advice. A lower dose may be more suitable. Repeat after 4 hours if required but not more than 4 doses in 24 hours. Do not give to children under 18 years old Do not exceed the stated dose.
Active ingredient: Codeine phosphate 15mg Also contains: ethanol, invert sugar, sunset yellow dye (E110), sucrose 4g per 5ml alcahol 1.8 vol%
Consult a Doctor or Pharmacist before using this medication. Always read the label before using this medication. Do not exceed the stated dose.
Free shipping
Orders over £35.00
Tracked 48 Royal Mail: Estimated delivery 2 – 5 days.
Tracked 48 NO Signature
£3.99

Tracked 48 Signature
£4.49

Tracked 24 NO Signature
£4.99
Tracked 24 Signature
£5.49
Courier (Under 2 kg)
£6.19 - Next Working Day Delivery (Excluding Saturday Delivery) Orders MUST be placed before 11am on the day to be considered for NDD

Special Delivery Before 1pm (Under 1kg)
£6.99 - (Guaranteed Monday to Friday by Royal Mail)

Special Delivery Before 9am (Under 500g)
£15.99 - (Guaranteed Monday to Friday by Royal Mail)
Extra Weight Costs - Above 2kg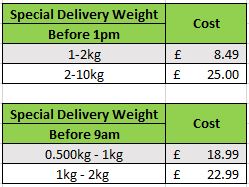 *Please note - certain 'P' (over the counter) items do not qualify for free shipping due to the nature of the ingredients. Please contact customer services for further information. A recorded service must be used. Non UK or private prescriptions do not qualify for free shipping - all items are sent Tracked 24 (£5.49) or Tracked 48 (4.49) Signature required.
**On stocked items (excludes fragrances), including Voucher codes offering free shipping.
Tracked 24 can take 1-3 working days from time of dispatch and Tracked 48 delivery can take 2-5 working days from time of dispatch. A recorded service does not speed up the actual delivery time.
Weight restrictions apply. In the event that any heavy or bulky items are ordered, Clear Chemist will contact you and advise you accordingly if you will be subject to any extra delivery charges.
Standard delivery is provided by Royal Mail.
NOTE:
Clear Chemist strives to offer the best delivery service possible but cannot make any guarantees on delivery times as they are contracted out to Royal Mail.
Product reviews
Quick delivery Review by Cough it up

Quick delivery and works for my cough. 5 stars (Posted on 20/08/2018)

Great Review by James

Nothing better than this, normal cough syrup did nothing to stop me coughing at night. (Posted on 07/04/2018)

Works better than anything else Review by Simon

Greatly supresses the cough, works really fast, within half an hour or so. (Posted on 06/01/2018)

Good website Review by Alex boh

Very good (Posted on 22/12/2017)

Staple in medicine cabinet! Review by Amelia w

The only thing that actually helps surpress your cough!!! Works wonders when can't sleep due to coughing, stops you coughing and helps you feel slightly drowsy, must have product in a household who continuously seem to be ill with a cold. (Posted on 05/12/2017)

dry cough medicine Review by simon

codeine linctus is an excellent product for a dry cough and despite some differing medical views it is still the best product for a dry cough (Posted on 25/10/2017)

Brilliant service and helped me. Review by Hendy

I like to buy the codeine cough mixture when I have a painful dry cough and it always helps me. I'll definitely be purchasing more when needed. (Posted on 27/07/2017)

verry good Review by John

worked really well when nothing else did 5* for this oneand would deffo use again (Posted on 19/07/2017)

Very good Review by Steve.

Codeine linctus normal. (Posted on 16/01/2016)

used for many years always works Review by NEIL

used for many years always works (Posted on 29/12/2015)
View 6 more reviews
Write Your Own Review