Details
Our yummy Celebrity Slim Soups can be used to replace a meal, just like our Celebrity Slim Shakes or Bars. They contain special proteins that digest slowly to make you feel fuller for longer and each 55g soup makes a satisfying meal. Each Celebrity Slim Meal Replacement Soup contains a nutritionally balanced combination of protein, carbohydrates, fats, vitamins, minerals and soluble fibre, to sustain your energy while you lose weight.
They also contain several important nutrients that can help accelerate weight loss and improve your health:
Green tea extract, which is rich in antioxidants, has been shown to accelerate natural fat burning, resulting in quicker weight loss. Dairy Calcium, a source of calcium and minerals extracted from milk, has been shown in several studies to stimulate fat loss. Caseinate, a dairy protein rich in amino acids, provides you with a feeling of fullness to help control your appetite. Whey Protein Concentrate provides high levels of certain amino acids which have been shown to assist in weight loss. It is also a rich source of easily digested proteins and immune enhancing nutrients to boost your health and immunity. Soy Protein Isolate contains specific plant nutrients, known as Isoflavones, that help regulate many body processes to keep hormone and energy systems in balance.
Directions for use: Simply replace two meals a day with Celebrity Slim Shakes, Soups or Bars and eat one healthy balanced meal and several healthy snacks each day.
Ingredients & Nutritional Information
Skim Milk Powder, Maltodextrin, Vegetable Oil, Glucose Syrup Solids, Calcium Caseinate, Soy Protein Isolate, Whey Protein Concentrate, Flavours [Hydrolysed Vegetable Protein, Yeast Extract, Vegetable Powders (including Celery), Vegetable Extract, Salt, Sugar, Dextrose, Spice Extract, Herbs, Vegetable Oil, Flavour Enhancers (E627, E631), Food Acids (E270, E363)], Modified Maize Starch, Parsley, Dietary Fibre (Fibersol-2™), Minerals (Dairy Calcium, Magnesium Oxide, Ferric Pyrophosphate, Zinc Sulphate, Manganese Sulphate, Copper Sulphate, Potassium Iodide Sodium Molybate, Chromium Chloride, Sodium Selenite), Thickeners (E415, E412, E414), Natural Malt Extract, Gelling Agent (E508), Inulin, Potato Starch, Black Pepper, Mineral Salts (E340, E452), Emulsifier (E471, E472e), Vitamins (A, B1, B2, B6, B12, C, D, E, K Folate, Niacin, Pantothenic Acid, Biotin), Colours (E160a, E150a), Anti Caking Agent (E551), Maize Starch.
Allergy Advice: Contains ingredients made from Milk, Soy, Wheat and Celery. May contain traces of Eggs or Nuts. Suitable for vegetarians.
Typical Nutritional Information for Country Beef Flavour Soup
Serving Size: 55g
-Average Quantity Per 55g ServingAverage Quantity Per 100g Energy 865kJ (207kCal) 1573 kJ (376kCal) Protein 15.6g 28.4g Fat, total 2.8g 5.1g - Saturated 1.3g 2.4g - Polyunsaturated 0.6g 1.1g - Monounsaturated 1.1g 2g Carbohydrate, total 28.6g 52g - Sugars 12.2g 22.2g Dietary Fibre, total 1.1g 2g Sodium 764mg 1,389mg - - - Vitamin A 210μg 382μg Vitamin B1 0.33mg 0.6mg Vitamin B2 0.48mg 0.87mg Vitamin B6 0.45mg 0.82mg Vitamin B12 0.42μg 0.76μg Niacin 5.4mg 9.8mg Vitamin C 13.5mg 24.5mg Vitamin D 1.5μg 2.73μg Vitamin E 3mg 5.5mg Vitamin K 8.6μg 15.6μg Pantothenic Acid 0.9mg 1.64mg Folate 60μg 109μg Biotin 4.5μg 8.2μg - - - Calcium 400mg 727mg Potasium 500mg 909mg Phosphorus 360mg 655mg Manganese 0.3mg 0.55mg Chromium 9.7μg 17.6μg Copper 0.33mg 0.6mg Molybdenum 12.1μg 22μg Magnesium 81mg 147mg Iron 4.8mg 8.7mg Zinc 3.1mg 5.6mg Selenium 16.5μg 30μg Iodine 39μg 71μg
Free shipping
Orders over £35.00
Tracked 48 Royal Mail: Estimated delivery 2 – 5 days.
Tracked 48 NO Signature
£3.99

Tracked 48 Signature
£4.49

Tracked 24 NO Signature
£4.99
Tracked 24 Signature
£5.49
Courier (Under 2 kg)
£6.19 - Next Working Day Delivery (Excluding Saturday Delivery) Orders MUST be placed before 11am on the day to be considered for NDD

Special Delivery Before 1pm (Under 1kg)
£6.99 - (Guaranteed Monday to Friday by Royal Mail)

Special Delivery Before 9am (Under 500g)
£15.99 - (Guaranteed Monday to Friday by Royal Mail)
Extra Weight Costs - Above 2kg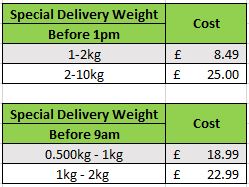 *Please note - certain 'P' (over the counter) items do not qualify for free shipping due to the nature of the ingredients. Please contact customer services for further information. A recorded service must be used. Non UK or private prescriptions do not qualify for free shipping - all items are sent Tracked 24 (£5.49) or Tracked 48 (4.49) Signature required.
**On stocked items (excludes fragrances), including Voucher codes offering free shipping.
Tracked 24 can take 1-3 working days from time of dispatch and Tracked 48 delivery can take 2-5 working days from time of dispatch. A recorded service does not speed up the actual delivery time.
Weight restrictions apply. In the event that any heavy or bulky items are ordered, Clear Chemist will contact you and advise you accordingly if you will be subject to any extra delivery charges.
Standard delivery is provided by Royal Mail.
NOTE:
Clear Chemist strives to offer the best delivery service possible but cannot make any guarantees on delivery times as they are contracted out to Royal Mail.
Product reviews
Review independently collected by eKomi Review by Paula

I use the soup to help me maintain my weight. (Posted on 05/09/2014)
Write Your Own Review