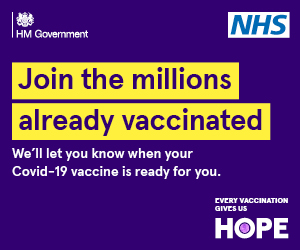 The Covid-19 Vaccine
Answers to commonly asked questions
How will I know it's my turn to have the Covid-19 vaccine?
The NHS will let you know when it's your turn to have the vaccine. Please only contact the NHS to arrange your vaccine appointment if you've been advised to do so. Once you've received a letter, email or text you can book your appointment online at your choice of vaccination site so that it's convenient for you. Those who cannot access the online booking service can call 119 to book an appointment.
Is the Covid-19 vaccine safe?
Before any vaccine can be used, it must pass strict quality, safety and effectiveness tests and be granted approval by the Medicines and Healthcare products Regulatory Agency (MHRA). The Covid-19 vaccine is no different and has been approved by the MHRA.
Are there any side effects from the Covid-19 vaccine?
Like all medicines, vaccines can cause side effects. Most of these are mild and short term, lasting no longer than a week, and not everyone gets them. These may include:
A sore arm where the needle went in

A headache

Feeling achy

Feeling or being sick

Feeling tired
If required, paracetamol can help relieve some discomfort.
Reports of extremely rare cases of blood clots: The oxford/AstraZeneca vaccine is safe, effective and has already saved thousands of lives. The UK's independent regulator, the MHRA, and the Joint Committee on Vaccination and Immunisation (JCVI) have both said that the benefits of the vaccine far outweigh the risks for the vast majority of adults.
As a precaution, it is preferable for people under the age of 30 with no underlying health conditions to be offered an alternative vaccine where possible once they are eligible.
Can I choose which Covid-19 vaccine I have?


No. All the vaccines that are available will have been approved because they pass the MHRA's tests on safety and efficacy, so people should be assured that whichever vaccine they have will be highly effective and protect them from coronavirus.
Will my Covid-19 vaccine protect me?
Vaccine offers important protection to reduce risk, but they do not make you invincible. Protection from any vaccine takes time to build up. In general, the older you are the longer it takes. It will take at least two weeks in younger people and at least three weeks in older people before you can expect to have a good antibody response.
How does the Covid-19 vaccine work?
Like any vaccine, the Covid-19 vaccine works by teaching your immune system how to create antibodies that protect you from disease. It's safer for your immune system to learn this through vaccination than by catching the disease.
How will my Covid-19 vaccine be administered and how many doses will I need?


The vaccine is given as an injection into your upper arm. The vaccine types currently being given require two doses, with the second dose three to twelve weeks after the first. You will be contacted to arrange a date for your second appointment unless you have already booked via the national booking system.
Does the Covid-19 vaccine contain animal products?


None of the Covid-19 vaccines approved by the MHRA contain any animal products.
Can I pay for the Covid-19 vaccine?


No, this is a free vaccine available through the NHS.
For more information please contact 0151-203-6535 or email pharmacy@clearchemist.co.uk.