Details
Loratadine
Product images shown are for illustration purposes only and may differ from actual product appearance.
Loratadine is an anti-histamine that is used to treat allergic reactions such as hay fever.

Loratadine blocks the immune system chemical 'histamine' that is produced when the immune systems detects an allergen.

Always read the patient information booklet before taking the medication.
Loratadine is used to Relieve symptoms of seasonal allergies like Hay Fever or pet allergies that can cause sneezing, a runny nose, Itchy eyes nose and throat.
Loratadine belongs to a group of medicines called antihistamines. It blocks histamine, a compound in the body. This helps to reduce the symptoms of the allergy.
Always read all packaging and directions carefully before using your purchases.
**Brands May Vary**
Dosage: For oral use
Adult & Children over 12 years of age: One 10mg tablet should be taken once daily at the first sign of allergic symptoms.
Children aged 2-12 years of age, weighing more than 30kg: One 10mg tablet once daily. Unless otherwise prescribed by your doctor.
Loratadine tablets are not suitable for children with a body weight of less than 30kg.
Loratadine is not recommended for use in children under 2 years of age. If symptoms persist consult your doctor.
Take special care with Cetirizine 10 mg Tablets
If you have kidney problems, please ask your doctor for advice; if necessary, you may have to take a lower dose. The new dose will be determined by your doctor.
If you are an epileptic patient or a patient at risk of convulsions, you should ask your doctor for advice.
Children
Do not give this medicine to children below the age of 6 years because the tablet formulation does not allow the necessary dose adjustments.
Other medicines and Cetirizine 10 mg Tablets
Please tell your doctor or pharmacist if you are taking or have recently taken any other medicines, including medicines obtained without a prescription.
Due to the profile of cetirizine, no interactions with other drugs are expected.
Loratadine tabs 10mg. Also contains Lactose.
The active substance of Cetirizine 10 mg Tablets is cetirizine hydrochloride.
One film coated tablet contains 10 mg cetirizine hydrochloride. The other ingredients are: pregelatinized starch, lactose, maize starch, povidone, magnesium stearate, macrogol 6000, basic polymethacrylate, titanium dioxide (E171), talc.
Do not use if you are pregnant or breast-feeding. If you have ordered different types of Antihistamines - WE DO NOT RECOMMEND taking these at the same time.
Free shipping
Orders over £35.00
Tracked 48 Royal Mail: Estimated delivery 2 – 5 days.
Tracked 48 NO Signature
£3.99

Tracked 48 Signature
£4.49

Tracked 24 NO Signature
£4.99
Tracked 24 Signature
£5.49
Courier (Under 2 kg)
£6.19 - Next Working Day Delivery (Excluding Saturday Delivery) Orders MUST be placed before 11am on the day to be considered for NDD

Special Delivery Before 1pm (Under 1kg)
£6.99 - (Guaranteed Monday to Friday by Royal Mail)

Special Delivery Before 9am (Under 500g)
£15.99 - (Guaranteed Monday to Friday by Royal Mail)
Extra Weight Costs - Above 2kg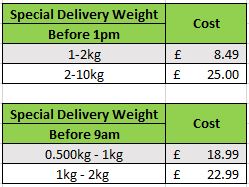 *Please note - certain 'P' (over the counter) items do not qualify for free shipping due to the nature of the ingredients. Please contact customer services for further information. A recorded service must be used. Non UK or private prescriptions do not qualify for free shipping - all items are sent Tracked 24 (£5.49) or Tracked 48 (4.49) Signature required.
**On stocked items (excludes fragrances), including Voucher codes offering free shipping.
Tracked 24 can take 1-3 working days from time of dispatch and Tracked 48 delivery can take 2-5 working days from time of dispatch. A recorded service does not speed up the actual delivery time.
Weight restrictions apply. In the event that any heavy or bulky items are ordered, Clear Chemist will contact you and advise you accordingly if you will be subject to any extra delivery charges.
Standard delivery is provided by Royal Mail.
NOTE:
Clear Chemist strives to offer the best delivery service possible but cannot make any guarantees on delivery times as they are contracted out to Royal Mail.
Product reviews
good Review by Gerry

I find them really good !! (Posted on 07/06/2018)

Tablets Review by Meg

Brilliant value for the money works great. (Posted on 15/04/2018)

Good Review by Kev

Very good for hay fever and sore eyes. (Posted on 09/04/2018)

Loratadine Review by Lindyloo

With in 30 mins of taking one tablet I have relief thank you . (Posted on 05/03/2018)

good Review by becca

ok (Posted on 26/02/2018)

5 Star! Review by LaurenBoobies

Fab! X (Posted on 12/02/2018)

not had a cold or even a sniffle all year!!!☺ Review by Rustie

Use all year! Very good! Bargain! 12 month deal! Thanks. Respect! (Posted on 05/02/2018)

Good Review by Smarty

Good (Posted on 05/02/2018)

Good Review by Neil

Good (Posted on 05/02/2018)

pet alergy Review by dukeof00

No more weeping eyes, no coughing, no runny nose,
just the job (Posted on 01/01/2018)
View 15 more reviews
Write Your Own Review